7/6/12   Chinese Tournament Angler competes on Champlain
Twenty-five years ago, the People's Republic of China started a bass stocking program to meet the growing food needs of its people.  As the Internet developed and provided a glimpse of the world outside of the borders of the country, Chinese youth discovered recreational bass fishing.  Internet coverage of big money bass tournaments in the United States fueled the next logical step in bass fishing in China – bass tournaments.  Though still in its infancy compared to the big time American bass tournaments, Chinese tournament bass fishing is catching on. The FLW has seen the opportunity for future business development by assisting in the growth of fishing tournaments in China.  A population in excess of 1.5 billion offers a future of tremendous growth.
During the recent FLW Major tournament on Lake Champlain, I had the opportunity to be the camera boat driver for a group of Chinese bass fishermen and their camera crew.  Several months ago, the Happy Fishing Channel, a 24-hour Chinese fishing network, ran a series of FLW affiliated bass tournaments in China.  The grand prize was an all-expenses paid trip to the United States to compete as a co-angler in the FLW Major tournament on Lake Champlain.  The winner, Wang Zhan, and his film crew arrived in Plattsburgh the Monday before the tournament.  The takeoff Thursday morning would be his first opportunity to be on Lake Champlain.  Read more here…
The buzz among the FLW Pros was how successful a relative beginner could be against the seasoned American tournament anglers.  In the FLW tournaments, the co-angler fishes from the back deck of the bass boat and for the most part are fishing "used water" behind the Pros.  Not speaking any English, Wang wasn't able to obtain much info from his first day pro partner, Darrel Robertson of Jay,Oklahoma.  Words don't describe the look on Darrel's face when he met his first-day partner – non-English speaking, first tournament for Wang, or whether his Chinese partner understood the rules – all with a $125,000 payday on the line for Mr. Robertson.  Darrel is a very successful FLW angler and has won over $1,700,000 in his career.   He is also a big-time Oklahoma cattle rancher.  But he is probably the easiest going and calmest fisherman on the planet – a great draw for Wang.
The next morning, after several last-minute instructions, the tournament took off with me and the Happy Fishing camera crew following Wang and Darrel in my boat at breakneck speeds. The Chinese fish from small aluminum boats with electric motors, not the high powered rockets of the American professional bass fisherman. After a 15 mile roller coaster boat ride from Plattsburg and much hooting and hollering in Chinese by my passengers, we arrived at Wang and Darrell's first fishing location.  Apparently, none of the Chinese delegation had ever been 60-plus mph in a bass boat before.
Let the fishing begin.  I positioned my boat 20 yards away from Wang and Darrell, allowing the camera crew to film the action. Now, watching someone else fish is worse than watching paint dry.  Every cast when you are fishing is made with anticipation, but when watching someone else do the same, it's just plain boring – that is, until someone catches a fish. Thank goodness, two minutes in and Darrel catches a bass and then another one, both keepers. It's on and Wang is down in the boat looking for lures. Come-on Man! This isn't going to be pretty, but at last he's ready and fishing and – Wow – he catches one, about a two pound largemouth. Great, after many photos by the Happy Fishing camera crew he's back fishing and right away catches another one. Hey, this is fun! The rookie is catching them. Again another one, now Darrel is looking over his shoulder, another one and this one is big!  Then a double, Darrel with one and Wang another one at the same time.  "Great net job Wang!" I yell.  So much for paint drying.  Darrel's isn't a keeper, now he's down three to two. It gets worse – two more for Wang in the next ten minutes, he has a limit. "Oh, Darrel! You're the Pro not a guide" I jab him. Darrel's now shaking his head, he looks at me and shrugs and yells, "This kid is good."  Time for Darrel to bear down and he does with a couple small keepers. Pressure's turned off and so do the fish, now we're back to paint drying.
For a fisherman who is 36 and only has been fishing 6 years, Wang is very talented. Smooth at casting and working his lures. I wish I could report that he blew away the field, but he didn't. The luck of the draw has a lot to do with a co-angler's success. Wang finished 74 out of 127 competitors for the two days. Not a bad first tournament. But Wang built memories for a life time – his first trip to the USA, his first American bass tournament, and judging from the excitement on his face, meeting his hero Gary Yamamoto, who was last year's runner-up onLake Champlain. Gary is to Asian fisherman what Bill Dance is to American fisherman. Great memories.
Just when I think I have seen and heard it all in fishing, along come the Chinese.  Szechuan Bass anyone?
_____________________________________________________________________________________________
6/1/12  The A-Rig – Will It Be a Factor on Champlain?  Ever since Paul Elias used the Alabama Rig to best the field at the 2011 Guntersville FLW Tour Open by more than 17 pounds, the impact of the A-rig on bass fishing has been has been undeniable.   The A-rig has already played a major role in at least one FLW Tour event this year.  David Dudley credited the A-rig in his April win on Beaver Lake in Rogers Arkansas.   In fact, four of the top five Beaver Lake anglers reported using the A-rig.  It also was reported to play a part in the success of second-place angler Spencer Shuffield at the earlier FLW Tour event on Table Rock Lake in Missouri.
Will the A-Rig play a part in the June FLW Tour Major Event on Lake Champlain?   Perhaps. The Vermont Fish and Wildlife Department confirmed the presence of a new baitfish – the alewive – in Lake Champlain in 2003.  Alewives are pelagic (suspending) plankton feeders that spawn in late spring and early summer, at night and near the shore.  This makes them ideal forage for Champlain smallmouth and largemouth bass.  Since 2008, widespread alewive die-offs have confirmed that large numbers are present in the lake.
The presence of large numbers of alewives may be changing the patterns of largemouth and smallmouth bass as we speak – moving bass away from milfoil weedlines that have been a large part of Lake Champlain bass fishing and away from associated forage sources such as perch, bluegill and crayfish.  Some anglers believe that increased size of the bass caught in recent years is related to the establishment of alewives.    If Lake Champlain bass are moving away from milfoil (which is showing a significant dieback this spring) and feeding on large schools of alewives, then the A-rig, which mimics schools of suspending bait fish so well, could be a deadly new technique.
But there is a lot more to the story.   According to guidance issued by the Vermont Department of Fish and Wildlife, "[T]he Alabama Rig is legal to use in Vermont provided no more than two lures with hooks intended to catch fish are attached to it."  However, "if an angler were to attach hookless attractors to the remaining 3 wire strands, such as rotating blades (i.e. spinnerbait blades), or hookless soft plastic baits, it would also be legal to fish in this manner."  New York regulations for Lake Champlain appear to provide similar restrictions on the number of lures that may be used with the A-rig.
Undoubtedly, some creative Lake Champlain bass anglers have been quietly experimenting with a modified two-hook A-rig, testing whether the rig's killer effect on schooling bass might work on Champlain.   If FLW Tour anglers establish that a two-hook A-rig is as effective as the standard rig, then by early July we may all be using it.
_______________________________________________________________________________________________
1/11/12  Alabama rig legal on Champlain, but anglers must be aware of regulations.  The Alabama rig has been the hot topic of bass fishing conversation since October 2011 when professional angler Paul Elias used it to win $100,000 at an FLW Tour Open on Lake Guntersville.  In essence, the A-rig is a castable umbrella rig that allows fishermen to attach five or more lures to a single line.  Since Elias' much publicized win, bass anglers around the country have been debating the ethics and legality of using a device designed to catch, or at least capable of catching, more than one bass at a time….  Read more here.
_____________________________________________________________________________________________
1/5/12  Champlain bass angling continues to improve.  Many Champlain bass anglers reported that the 2011 season was their best ever – both in terms of numbers and size of bass.  At the 2011 FLW Tour Open held in September, Dave Wolak set a new Champlain 4-day FLW tournament record of 81 lbs.
A close look at FLW Outdoors tournament data for Lake Champlain shows that Champlain bass fishing has been improving steadily for the last decade. In fact, the weight of the average fish in the winning tournament bag in FLW events (Tour, Everstart Series and BFL) has increased by nearly a pound in the last ten years.
The average size of the winning fish in Dave Wolak's 2011 winning bag was a whopping 4.05. lbs (81lbs./20 fish/4 days).  By contrast, the weight of the average fish in the Sam Newby's winning bag at the 2002 FLW Major was 3.24 lbs.  You can see the rest of the data and the trend here.  Champlain bass continue to get bigger and the fishing continues to improve.
—————————————————————————————————————————————–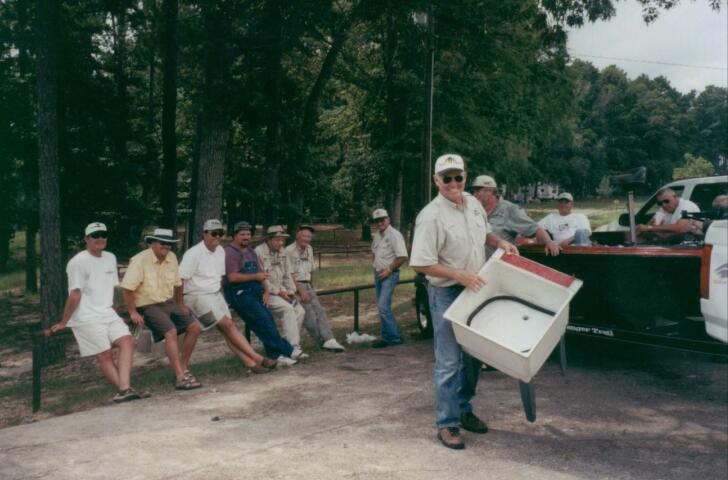 12/15/11  So what does it take to win an open or club-level bass tournament on Lake Champlain?   According to 2011 Champlain tournament reports submitted to the Vermont Department of Fish and Wildlife, in 27 partner and individual bass tournaments having between 10 and 70 boats, winning the tournament required weighing in five (or six depending on the tournament limit) bass averaging of 3.67 pounds (total winning weight/number of tournament days/number fish in winning bag).
Interestingly, the difference between the average for 12 individual tournaments (3.62 lbs) and 15 partner tournament (3.74 lbs) was only 0.12 lbs.  Since the the distribution of weights of bass in Lake Champlain appears to be relatively narrow and doubling the number of anglers does not have a very significant effect on the weight of a tournament bag, Champlain tournament anglers may have more success if they specifically target larger fish rather than trying to catch more fish to cull through them for the largest bag.